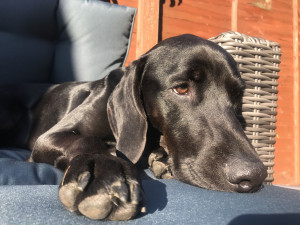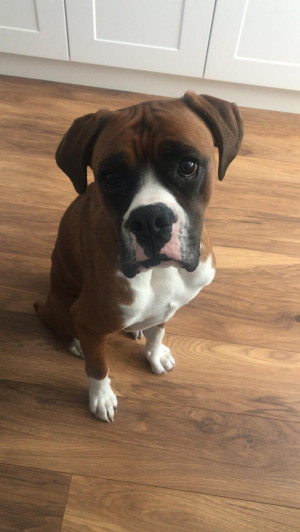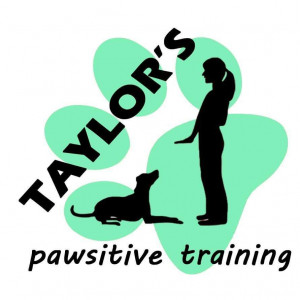 Posted: 29 May 2020
Helping our pets post lockdown!
Dogs are creatures of routine and like us, these last few months have seen these go out the window!  We have seen first hand within the DotDotFamily, that many of our DotDotDogs are now at home, full time, with their families!  This has been without doubt, a very special time for everyone; but what happens when this abruptly comes to an end and your fur babies are left wondering whats happening?
Lots of our clients are now asking for help with how they can best prepare their babies for life post lockdown, and here are a few of our DotDot Pet Care's 'top tips' and some more formal expert advice from our partner in pet care, Laura Taylor who owns 'Taylors Pawsitive Training'.   The more pro-active you can be in preparing your dog for the changes to their routine / environment, the better!  Before lockdown, separation anxiety in dogs was one of the top behavioural issues, with over 80% of dog owners reporting signs in their furry friends.  So this behaviour is not uncommon 'normally'.
Sooner rather than later begin to give your dog time alone - this may simply be you taking a 10minute stroll without them, or sitting in another room separate to them, but either way the message to them must be that they cannot be with you 24/7.  If your dog is used to always having people around them (pre-covid-19) then there won't have been such drastic changes to their routines; but for those whose owners normally go to work and utilised DotDot for walkies / day care, family or friends to look after their animals during the day, then lockdown will have been a huge change!

Re-introduce safe socialisation - now we are able to meet others outdoors, from different homes, why not arrange to meet a friend / family with their dog  for walkies and allow them to mix with other doggys in a safe and controlled environment.  You of course can also utilise our DotDot services with adhoc or regular social walks -click on our Services page for more info.

Mental enrichment - when you do begin to leave your pooches for periods of time alone, keep them busy! There are so many things you can do for your doggy and it doesn't need to cost the earth! Investing in a Kong for example is an easy way to keep them occupied for a few hours (especially if you freeze it full of yummy sunday lunch left overs!).  There are snuffle mats, slow feeders - or be creative and make your dog a destruction box (empty cereal box with pungent treats inside and safely wrap this up- it can be a messy clean up but the dogs love it!).  Scatter feed treats around their room before you leave, giving them a little treasure hunt to take part in!

Exercise - Try take them out before you leave for work and if you cant, think about some mental enrichment games before you go, scent work as above, clicker training, basic training etc. Whilst out at work ensure you have a reliable person to come and walk the dog to break their day up and provide physical exercise, wee breaks, top up fresh water etc.  If they really struggle think about day care as an option.  DotDot Pet Care provide a fully licensed and insured home-from-home day care service where no kennels can be seen- only sofa's!  Lots of attention and walkies too.

1-2-1 training walks / sessions - Now, and/or when you go back to work, don't ever be afraid to seek professional help!  We see lots of our clients feeling nervous about asking for help, or feeling parent guilt for leaving their fur babies home alone.  For a well rounded and confident doggy and being a responsible and loving pet owner. there is nothing wrong in leaving them for periods of up to 4 hours.  Dogs are like humans, they can have behavioural problems that we simply can't understand or explain, but thats where a highly qualified and experienced dog behaviouralist can assist.   
Our very own DotDotFamily expert, Laura Taylor of 'Taylors Pawsitive Training' had this to say;
For me as I know how heartbreaking it can be to see a dog suffering from severe separation anxiety, I would encourage people to reach out and ask for help as sometimes it isn't a quick fix - but the reality is at this moment in time, we all need to get back to work and earn a living.  So don't feel guilty for having to return back to normal life, but let's try and be forward thinking and pre-empt any problems now.  My suggestions are similar to DotDot Pet Care's, but I would also suggest;
Keep a diary so you can track progress and look at triggers for your dog.
When leaving the house, leave some clothing for them with your scent on.
You can leave music or TV's on for them, or even record your voice/talking and mix it in on a shuffle / music playlist!
No big goodbyes or hello's - its tempting to do this, but try your hardest not to!
Exercise is critical during the day to physically tire them out.
There are lots of affordable 'doggy cams' out there if you want to invest in these to keep an eye on your dog.
How do I spot signs that my dog is suffering from separation anxiety?
Common signs of anxiety in dogs include:
Barking or howling when owner isn't home
Panting and pacing (even when it's not hot)
Shivering
Running away and/or cowering in the corner of a house
Digging
Trying to escape from the home / garden
Destroying furniture
Self-harm, including excessive licking or chewing
Not eating
Urinating more frequently
A general inability to settle.
If you think your dog is not overcoming their separation anxiety and their behaviour is worsening, you of course should seek expert help.  
There are lots of experts out there, but DotDot Pet Care work closely with Laura Taylor of 'Taylors Pawsitive Training' and with over 17 years of qualified and hands on experience, I am confident Laura can come up with a behavioural plan of action to assist in your dog being the most content and confident dog that they can be!  https://www.taylorspawsitivetraining.com/